Yoshi Shell Jump
Difficulty
Intermediate
Works With
Shells
Symbol

Game Styles

Links
Gallery • Tutorial
The Yoshi Shell Jump is an intermediate trick and one of the most common variations of a shell jump used in Super Mario Maker.
How It Works
Spitting a shell towards a wall just before the peak of Yoshi's jump will cause the shell to rebound off the wall and land under his feet. When Yoshi spits a shell he is not able to interact with it for ? frames. This means he needs to be at least 2 blocks from the wall in order to bounce off the shell.
Frame Window
When Yoshi spits the shell, there is a 2-3 frame window for it to land underneath his's feet.NoteWhen Yoshi is close to a wall, there is a 3 frame window. While when Yoshi is further away from a wall there is only a 2 frame window.
Basic Yoshi Shell Jump
Normal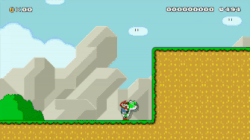 Variations
Delayed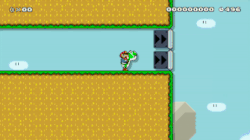 By sticking out Yoshi's tongue just before the shell reaches his feet, he is able to immediately regrab the shell.
Normal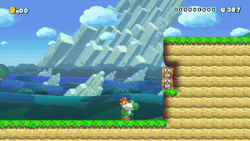 See Also