Yoshi Dismount
Difficulty
Basic
Works With
Yoshi
Game Styles
The Yoshi Dismount is a basic trick used in Super Mario Maker. This trick is used to gain extra height by jumping off of Yoshi in midair.
Basic Yoshi Dismount
Pressing

will cause Mario to jump off Yoshi.
Normal
Variations
Dismounting Yoshi on the 1st frame Mario lands on him will cause Mario to jump off of Yoshi without activating the effects that normally come with being on Yoshi.
Normal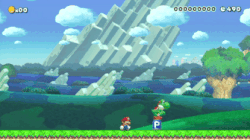 Dismounting a Yoshi after a crouch jump will cause Mario to store his crouch.
Sliding
Dismounting a Yoshi will send him forward allowing him to make a jump he normally would not be able to cross.
Normal
Spring Spin Jump
Dismounting a Yoshi while on a spring and pressing jump at the same time will allow Mario to perform a Spin Jump off a spring. This only work in the Super Mario World game style.
Normal
See Also