Yoshi 1st Frame Dismount
Difficulty
Frame-perfect
Works With
Yoshi
Game Styles

Links
Tutorial
The Yoshi 1st Frame Dismount is a frame-perfect trick used in the Super Mario Maker. This trick allows Mario to jump off of Yoshi without activating the effects that normally come with being on Yoshi.
How It Works
Dismounting Yoshi on the 1st frame Mario lands on him will cause Mario to dismount Yoshi without having been considered to be riding him.
Mechanics
Mario will dismount Yoshi with a normal jump, as if Yoshi was in the air, instead of doing a Spin Jump or backflip dismount
Mario can jump off Yoshi without activating a P Switch or causing a Flimsy Lift to fall if Yoshi is standing on it.
Variations
Normal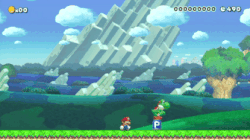 See Also