Weird Shell Jump
Difficulty
Advanced
Works With
Shells
Game Styles
Links
Gallery • Tutorial
The Weird Shell Jump is an advanced trick used in Super Mario Maker and is probably the least well known variation of a shell jump. It is widely considered to be one of the most difficult to pull off tricks in the game.
How It Works
The Weird Shell Jump uses the same mechanics as the infinite 1-Up shell trick, except in midair. When a shell is a certain distance from a wall Mario can bounce on the side of it while also kicking the shell forward.
Mechanics
Because Mario is not technically jumping on the shell, performing a Spin Jump or Yoshi jump will not destroy the shell. This also means Mario is able to jump off a Spiny shell without taking damage. This will also cause Mario to bounce 1 block lower than he would on a regular shell bounce.
Basic Weird Shell Jump
| Normal | Spinning |
| --- | --- |
| | |
Variations
Cape
| Normal | Regrab |
| --- | --- |
| | |
Delayed
Normal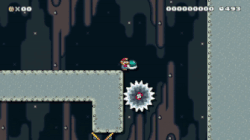 Dropping
Normal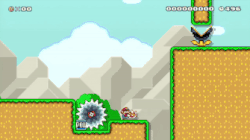 If the giant shell breaks destroy-able blocks and then hits a wall it will immediately stop moving if Mario is in the air.
| Normal | Shell Stopping |
| --- | --- |
| | |
Raccoon
| Normal | Regrab |
| --- | --- |
| | |
Track
Normal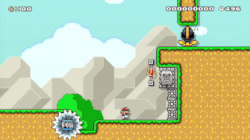 Yoshi
| Normal | Regrabbing |
| --- | --- |
| | |
See Also