Regrab Shell Jump
Difficulty
Advanced
Works With
Shells
Game Styles

Links
Gallery • Tutorial
The Regrab Shell Jump is an advanced trick used in Super Mario Maker. This trick allows Mario to peform multiple shell jumps with a single shell by doing a shell jump and then hitting the shell upwards in order to regrab it. 
How It Works
If Mario hits a shell on the same frame he lands on it (or 1 frame after with Raccoon Mario) with either his tail or cape, the shell will be hit upwards allowing Mario to regrab it.
Basic Variations
These can be done with either Raccoon Mario or Cape Mario.
| Raccoon | Cape |
| --- | --- |
| | |
It is also possible to regrab a shell after performing a Midair Shell Jump.
| Raccoon | Cape |
| --- | --- |
| | |
Other Variations
Spring Regrab Shell Jump
If Mario bounces on the shell right as it hits the spring he will be at the same height as the shell allowing him to regrab it.
Normal
If Mario does a weird shell jump while on Yoshi he is able to immediately regrab the shell due to the fact that the shell is not destroyed.
Yoshi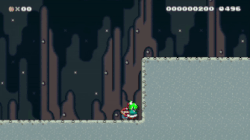 By sticking out Yoshi's tongue just before the shell reaches his feet, he is able to immediately regrab the shell.
Normal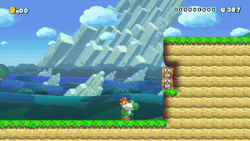 See Also