The Pixel Jump, also known as the TAS Ride (JPJapanese: TAS乗り

Romaji: TAS-nori), is an advanced trick used in Super Mario Maker. This trick allows Mario to land on places that look like they should kill Mario, but are completely safe because of how the hitboxes are programmed.
How It Works
Most objects don't have the same size hitbox. This slight difference makes it possible to stand directly next to the object without actually touching it.
Basic Pixel Jump
Normal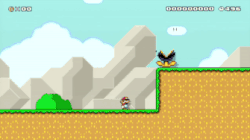 Variations
Sideways Spring
Spike/Ghost
Normal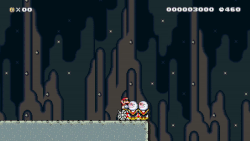 Thwomp Stack
The hitbox for being able to jump on a Thwomp is a few pixels wider than the hitbox for taking damage. Standing directly beside a Thwomp allows Small Mario to Spin Jump on a Thwomp without taking damage.
Normal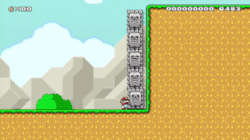 See Also