Phantom Jump
Difficulty
Intermediate
Patched
Version 1.47
(Chaining, Note Block)
Game Styles

Links
Tutorial
The Phantom Jump (JPJapanese: ファントムジャンプ

Romaji: Fantomu janpu) is an intermediate trick used in Super Mario Maker. This trick allows Mario to perform a Triple Jump with only 2 jumps which is normally not possible.
As of version 1.47 the normal method of Triple Jump Chaining no longer works, meaning that any level that required it is impossible.
How It Works
The Phantom Jump works by getting an extra jump towards a Triple Jump which seemingly comes from nowhere. This can either be from getting a double jump from a single jump, or hitting the bottom of an object counting as an extra jump. Another common way to do this is by chaining Triple Jumps together.
Variations
Bowser Jr.
Running off of a ledge and landing on a Bowser Jr. will immediately give Mario a double jump. This will not work if Mario jumps onto Bowser Jr. instead of running off.
Normal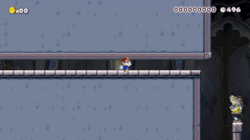 Bumper
Jumping into the bottom or side of a Bumper counts as an extra jump.
Grinder
If Mario is wearing a Shellmet, jumping into a Grinder will count as an extra jump.
Normal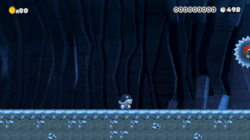 Junior Clown Car
Jumping into the bottom of a Clown Car will count as an extra jump.
Normal
Note Block
Note: This method only works on levels created before version 1.47
Running onto and jumping off a Note Block will immediately give Mario a double jump.
Normal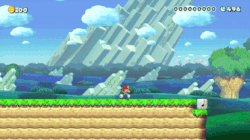 Triple Jump Chaining
Note: The normal method only works before version 1.47, while the rebound method is still possible in old levels.
This method allows Mario to chain multiple triple jumps together. Doing a quick turn-around after a triple jump will cancel the triple jump animation allowing the last jump of the first triple jump to be used as the start of the next triple jump.
Alternatively, this is also possible if Mario changes directions after the first triple jump re rebounding into a sideways spring.
| Normal | Spring Rebound |
| --- | --- |
| | |
See Also