P Switch Drop
Difficulty
Basic
Works With
P Switch
Game Styles

Links
Tutorial
The P Switch Drop is a basic trick used in Super Mario Maker. This trick allows Mario to activate a P Switch in midair.
Basic P Switch Drop
This is done by dropping a P Switch at the peak of Mario's jump.
Normal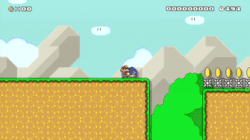 Variations
Performing a 1 frame regrab Midair Input and landing on the P Switch will cause Mario to get a massive speed boost.
Speed Boost
Dropping the P Switch and staying in a crouched position will send Mario flying at a fast speed. It it possible to get a Wall Clip from this.
| Normal | Wall Clip |
| --- | --- |
| | |
Yoshi
By spitting a P Switch with Yoshi and landing on it after it rebounds off a wall Yoshi will be given a speed boost.
Normal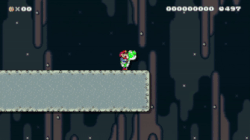 See Also