Object Bypassing
Difficulty
Basic
Patched
Game Styles
Links
Gallery • Tutorial
Object Bypassing is a basic trick used in Super Mario Maker. There are many different ways to clip through or bypass objects that Mario normally cannot go through. It is also possible to clip items or enemies through objects.
Variations
Bill Blaster
When a Note Block is pushed down it forces Mario to clip into the Bill Blaster.
| Normal | Item Carry |
| --- | --- |
| | |
Note: See the main page for full variations
Normal
Cannon
It is only possible to clip through cannons that are not attached to walls.
Chain Chomp Post
Clown Car
Note: See the main page for full variations
Normal
Donut Blocks
Note: See the main page for full variations
Normal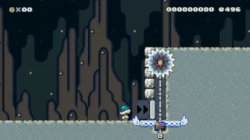 Note: See the main page for full variations
Normal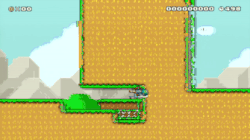 Note: See the main page for full variations
Normal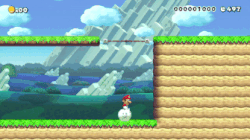 Lava Lift
Moving / Falling Platform
Muncher
Note: See the main page for full variations
Normal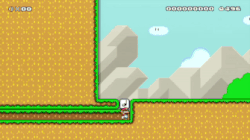 Note: See the main page for full variations
Normal
POW Block
Semi-Solid Platform
| Normal | Hidden Block | Bill Blaster |
| --- | --- | --- |
| | | |
Spring
Sideways Spring
Thwomp
See Also