Note Block Spin Jump
Difficulty
Basic
Works With
Note Block
Game Styles

Links
Tutorial
The Note Block Spin Jump is a basic trick used in Super Mario Maker that lets Mario start a Spin Jump from a Note Block.
Heights
Mario is able to get various different heights depending on which buttons on pressed.
Small Spin Jump
Pressing

after Mario lands on the Note Block will allow him to start a Spin Jump.
Normal
High Spin Jump
In order to perform a high Spin Jump both the

and

buttons need to be pressed. However, depending on which button is pressed Mario is able to get two different heights. Pressing

and then

will allow Mario to jump one block higher than he is able to from a normal Note Block jump, while doing the opposite will give him the normal jump height.
Normal
Variations
By placing a grinder over a Note Block it is possible to create a setup where Mario only has two frames to perform a Spin Jump.
Spin Jump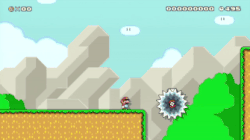 See Also