Note Block Clip
Difficulty
Basic
Game Styles
The Note Block Clip is a basic trick used in Super Mario Maker that allows Mario to go through a Note Block that would normally block his path.
How It Works
When a Note Block is hit, or jumped on, it will move up or down giving Mario enough room to clip through it.
Variations
Ducking
Jumping on the edge of the Note Block will cause it to move down far enough for Mario to slip through. If Mario is Super Mario or higher he will not be able to pass through unless he is ducking.
Normal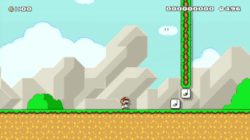 From Below
If a Note Block is on a semi-solid platform, Mario is able to clip through it from below. This will also allow Mario to walk through walls that are above the Note Block.
| Normal | Walk Through Walls |
| --- | --- |
| | |
Shell
This variation is done by throwing a shell around 2 blocks away from a Note Block. This causes the Note Block to move upwards allowing Mario to pass underneath it. This is not possible if Mario is Super Mario or higher.
Normal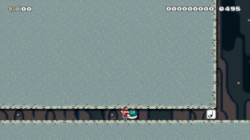 See Also