Multicaping
Difficulty
Intermediate
Patched
Version 1.44
(Normal)
Game Styles

Links
Tutorial
Multicaping, also known as Sticky Fly, is an intermediate trick used in Super Mario Maker. This trick allows Cape Mario to stick to the ceiling while flying.
How It Works
If Mario does a cape dive and immediately pulls up just as he fly against a ceiling he is able to stick to it while continuing to fly.
Basic Multicaping
Note: This method only works on levels created before version 1.44.
Normal
Variations
Bumper
Mario is able to fly against Bumpers if they're slightly offset.
Normal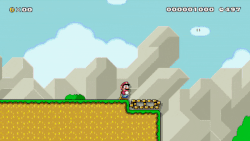 Edge of the Screen
Normal
Grinder
If Mario is wearing a shellmet he is able to fly against a ceiling of grinders.
Normal
See Also