Meow Dive
Difficulty
Advanced
Works With
Game Styles

Links
Gallery • Tutorial
The Meow Dive is an advanced trick used in Super Mario Maker that allows Mario to Spin Jump off an enemy in midair by jumping into it.
How It Works
This trick is done by Spin Jumping into a enemy in a way that allows them to be even with Mario's feet after they are bumped. This allows Mario to catch up to them and jump off them in midair.
Basic Meow Dive
| Up Throw | Dropping |
| --- | --- |
| | |
Variations
Fire Flower
Fire Mario is able to do a Meow Dive without needing to descend to catch up to the Bob-omb. This is because a Bob-omb will slightly stall in the air after being hit by a fireball.
Normal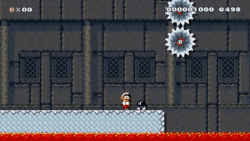 Stationary Enemy
By running and Spin Jumping into a stationary enemy that is stunned Mario is able to jump off it in midair.
| Normal | Delayed |
| --- | --- |
| | |
Throwing Forward
By throwing a Bob-omb forward Mario is able to perform a Meow Dive at full speed. This will not work with any other enemy.
Normal
Wall Jump
Mario is able to perform a Meow Dive from a wall jump by throwing a Bob-omb towards a wall and Spin Jumping off it.
Normal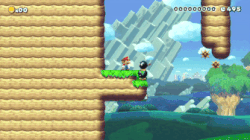 See Also