The following is a list of minor techniques in Super Mario Maker that are not big enough to have their own page.
Clown Car Bypass
Mario is unable to enter a Clown Car during the throwing animation.
Donut Speed Tech
Holding forward while on a donut block will make it fall 1 frame faster than normal.
Normal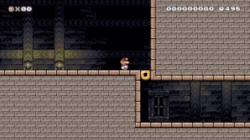 Hidden Block Cape Jump
It is possible to activate a hidden block with a cape spin while also landing on it.
Normal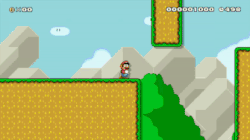 Rotating Block Bounce Cancel
Spin Jumping onto a Rotating Block and throwing an item 1 frame after landing on it will cancel the bounce off the block and Mario will fall directly through it.
Normal
One Block High Buzzy Beetle Jump
By jumping in a one block high space Mario is able to avoid taking damage from a Buzzy Beetle. This is due to the Buzzy Beetle being slightly less than one block high. When in the Super Mario World or New Super Mario Bros. U game styles, Mario has to be ducking for this to work.
Normal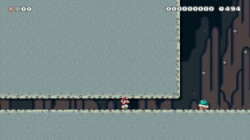 Thwomp Raise
Jumping on an enemy that is stacked on a Thwomp will cause the the Thwomp to immediately start raising to its initial spot.
Upward Block Break
Jumping into a block directly above Mario and throwing a shell will allow Mario break a Brick Block that would normally not be able to be broken from below by Small Mario.
Normal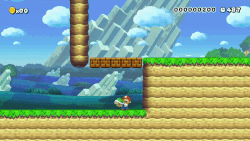 Yoshi Push Bypass
Mario has the ability to push Yoshi around my walking into him. However, this is not possible to do if Mario is crouching. This allows him to move through Yoshi without pushing him.
Yoshi Spin Jump Mount
Spin Jumping onto Yoshi while he is in midair as Super Mario or higher will cause him to slightly jump upwards. This will only work in the Super Mario World game style.
Normal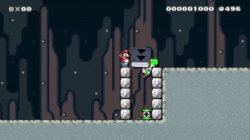 Yoshi Swallow Kill
When Yoshi swallows a fireball he is able to kill enemies with it during the time it is entering his mouth. This can also be used to move the explosion from a Bob-omb.
Yoshi Used P Switch Eat
If Yoshi eats a P Switch at the same time it gets pressed he is able to swallow the used P Switch after it gets activated. This will cause Yoshi to have the appearance of an item being in his mouth, when in reality his mouth is empty. While there is no physical P Switch in his mouth, this will still allow Yoshi to swim faster underwater.
Normal
See Also