Juggling
Difficulty
Intermediate
Works With
Carry-able Objects
Game Styles

Links
Gallery • Tutorial
Juggling is an intermediate trick used in Super Mario Maker that allows Mario to carry multiple items over a distance.
How It Works
Juggling is done by throwing one item upwards, grabbing the second item and then catching the falling item after throwing up the second item. By repeating this it is possible to carry both items over a large distance. Because it require the use of the up throw it is only possible in the Super Mario World game style.
Basic Juggling
Normal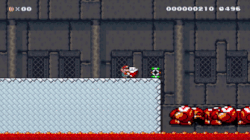 Variations
Up a Vine
By doing an Item Vine Carry it is possible to juggle items upwards wall climbing on a vine.
Normal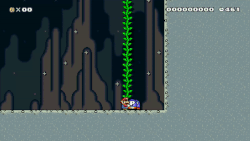 Other Variations
Bouncing On Head
Mario is also able to carry multiple items by balancing them on his head.
See Also