Item Spin Jump
Difficulty
Basic
Works With
Holdable Objects
Game Styles
The Item Spin Jump is a basic trick used in the Super Mario World game style to allow Mario to carry an item while Spin Jumping. There are many different techniques for spinning with items. This trick is not needed in the New Super Mario Bros. U game style as you can already Spin Jump with items.
How It Works
Mario is unable to start a Spin Jump while holding an item, however he is able to grab an item in midair and continue spinning.
Variations
Dropping
This is done by dropping the item while falling and then performing a Spin Jump after landing on the ground.
Dropping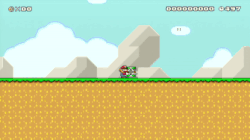 Spinning Into
This variation is done by running and performing a Spin Jump just before Mario grabs the item. This can be made easier by first setting the item on a semi-solid platform such as a cloud block. This can also be done to grab an item that is on top of a Thwomp.
Normal
Throwing
This is the common variation and it is done by first throwing an item upwards and then Spin Jumping into it after it starts to fall. It can also be done by throwing an item forward and having it rebound off a wall.
Up Throw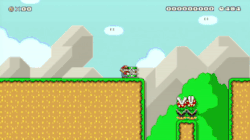 See Also