Ground Pound Platform
Difficulty
Basic
Works With
Semi-Solid Platforms
Symbol

Game Styles

Links
Tutorial
The Ground Pound Platform is a basic trick used in Super Mario Maker. This allows Mario to land on a platform that he would normally not be able to reach.
How It Works
Performing a Ground Pound at the peak of a jump extends Mario's height allowing him to land on platforms one block higher than normal.
Basic Ground Pound Platform
Normal
Variations
Boot
This trick can be done while inside a giant Goomba's Shoe, however it is less useful, as the same height can also be obtained by using the boots hover jump.
Boot
Yoshi
This can also be done with Yoshi when in the New Super Mario Bros. U game style.
Yoshi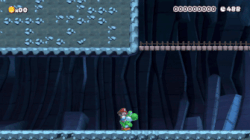 See Also