Ground Pound Item Jump
Difficulty
Intermediate
Works With

P Switch
POW Block
Spring

Symbol



Game Styles

Links
Tutorial
The Ground Pound Item Jump is an intermediate trick used in the game. This allows Mario to jump on item in midair by performing a Ground Pound.
How It Works
Dropping an item while falling and then performing a Ground Pound will stall Mario just enough to land on the item. Mario will only be able to jump off a POW Block if it makes contact with a wall first.
Basic Ground Pound Item Jump
| Spring | P Switch |
| --- | --- |
| | |
Variations
By doing a 1 frame regrab Midair Input it is possible to perform the Ground Pound Item Jump from a Spin Jump.
Spin Cancel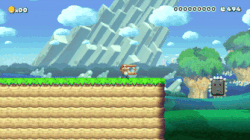 Throwing
Note: This method does not work with the POW Block
This version is done by throwing an item at the peak of Mario's jump and then performing a Ground Pound after the item rebounds off the wall.
Throwing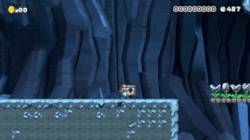 See Also