Ground Pound Item Grab
Difficulty
Basic
Works With
Game Styles

Links
Tutorial
The Ground Pound Item Grab is a basic trick used in Super Mario Maker that lets Mario grab an item that is normally unreachable.
How It Works
Doing a Ground Pound will slightly lower a Brick Block. This gives Mario enough room to grab the item. This trick only works with a POW Block or P Switch. It can also be used to collect a Key.
Variations
Normal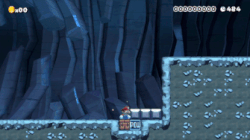 See Also