Ground Pound Cancel Jump
Difficulty
Advanced
Works With

Destructable Blocks
Solid Enemies

Game Styles

Links
Tutorial
The Ground Pound Cancel Jump is an advanced trick used in Super Mario Maker. This trick allows Mario destroy a block or enemy with a Ground Pound and jump off it at the same time.
How It Works
When an object is destroyed from a Ground Pound it will not completely disappear for 2 frames. By canceling the Ground Pound after destroying the object, it is possible to perform a jump or enter a door.
Variations
Brick Block
| Door Entry | Jump |
| --- | --- |
| | |
Chain Chomp Post
This version is much easier because Chain Chomp posts aren't immediately destroyed.
Normal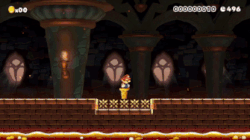 POW Block
Thwomp
Normal
See Also