Ground Pound Cancel
Difficulty
Basic
Symbol


Game Styles
The Ground Pound Cancel is a basic trick used in Super Mario Maker to cancel a Ground Pound after starting it. There are many variations of this trick.
Basic Ground Pound Cancel
Pressing up after performing a Ground Pound will cancel it.
Normal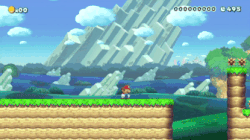 Variations
Note: See the main page for full variations
By repeatedly performing Ground Pound Cancels it is possible to significantly slow the rate of Mario's fall.
Normal

Block Activation
Performing a Ground Pound Cancel will allow Mario to activate blocks that he wouldn't normally be able to reach.
Hidden Block
Pipe Entry
Performing a Ground Pound Cancel will slightly extend Mario's height allowing him to enter an overhead Warp Pipes
Normal
See Also