Cape Mario is the form Mario turns into after obtaining a Cape Feather. Cape Mario is only available in the Super Mario World game style.
History
Super Mario Maker
To Be Added
Appearance
Abilities
This form allows Mario to slowly float down when falling. Mario can attack enemies with his cape by spinning. He is also able to fly indefinitely if he runs for a short time and then jumps.
Cape Canceling
When Cape Mario gets hit while diving he will not take damage and will instead cancel his flight and start spinning.
Dive Bomb
If Cape Mario dives into the ground during flight, it will cause a quake that instantly defeats all on-screen enemies that are touching the ground.
By spinning the cape after gaining cape speed, Cape Mario is able to retain the ability to fly even when standing still.
Note: This only works on levels created before version 1.44
By diving and flying into a ceiling, Cape Mario is able to stick to the ceiling while flying.
Normal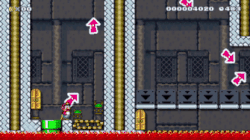 Spin Fly
By spin jumping after gaining cape speed, Cape Mario will jump very high as if he's flying.
Gallery
See Also
Community content is available under
CC-BY-SA
unless otherwise noted.