Bob-omb Riding
Difficulty
Basic
Works With
Bob-omb
Game Styles

Links
Tutorial
Bob-omb Riding is a basic trick used in Super Mario Maker that allows Mario to traverse large distances by riding a Bob-omb.
How It Works
Spin Jumping on a Bob-omb will send it flying on the opposite direction. By timing the jumps, it is possible to ride on a Bob-omb for large distances.
Basic Bob-omb Riding
Normal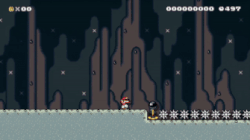 Variations
Big Mario
When Mario is Big Mario he has the ability to kick a Bob-omb forward without having to Spin Jump.
Yoshi
When Yoshi jumps on a Bob-omb it will have the same effect as a Spin Jump.
See Also