Assisted Midair
Difficulty
Intermediate
Works With
Shells
Game Styles
Links
Tutorial
The Assisted Midair is an intermediate trick used in Super Mario Maker. This trick mimics the Midair Shell Jump without having to perform the same input.
How It Works
When Mario kicks a shell while traveling at a high speed he is able to catch up to the shell while in midair and bounce off it.
Basic Assisted Midair
| Normal | Spin |
| --- | --- |
| | |
Variations
Autoscroll
If Mario is being pushed by the autoscroll he is able to throw a shell and then slowly catch up to it in midair. If Mario is also being pushed by a conveyor he is able to immediately bounce off the shell.
| Normal | Conveyor |
| --- | --- |
| | |
Delayed
Note: This is partially patched on levels created after version ?
Mario is able to delay bouncing off the shell if he kicks the shell forward and then performs an air twirl while falling.
Grinder / Bumper Speed Boost
If Mario throws a shell forward and then immediately hits a Grinder (while he is wearing a shellmet) or a Bumper he is able to slowly catch up to the shell in midair.
Grinder
Reverse Momentum
This is done by throwing the shell upwards have having momentum in one direction and then immediately kicking it in the opposite direction.
Normal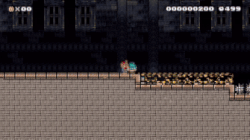 Spring Assisted
If Mario throws a shell upwards just before he hits a sideways spring he is able to bounce off the shell in midair.
Yoshi Dismount
By doing a Yoshi Slow Spit the shell will be close enough for Mario to land on when he ditches Yoshi. This is only possible if Mario hits a ceiling after dismounting Yoshi, or by doing a Flutter Jump when in the New Super Mario Bros. U game style.
| Ceiling | Flutter |
| --- | --- |
| | |
See Also