Air Stalling
Difficulty
Intermediate
Symbol


Game Styles

Links
Tutorial
Air Stalling, also known as Hip-Drop Endurance (JPJapanese: ヒップドロップ耐久

Romaji: Hippudoroppu taikyū), is an intermediate technique used in Super Mario Maker that allows Mario to significantly slow the rate of his fall.
Basic Technique
The basic Air Stall is done by starting a Ground Pound and then immediately holding up to cancel it. Repeatedly performing these 2 actions will cause Mario to fall much slower than normal.
Combined with Air Twirling
The advanced Air Stall is done by doing an Air Twirl in-between each Ground Pound Cancel cycle. Doing so will allow Mario to fall even slower than the basic method.
Normal

Variations
Boot
When Mario is in a Goomba's Shoe he is able to perform basic air stalling in the Super Mario Bros. and Super Mario Bros. 3 game style.
Normal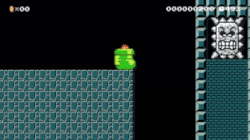 Sideways Spring
Performing an air stall next to a sideways spring on a track will let Mario travel sideways without losing any height.
Normal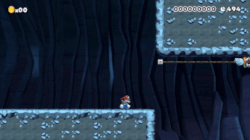 Yoshi
Mario is able to perform basic Air Stalling while on Yoshi in the New Super Mario Bros. U game style.
Normal
See Also